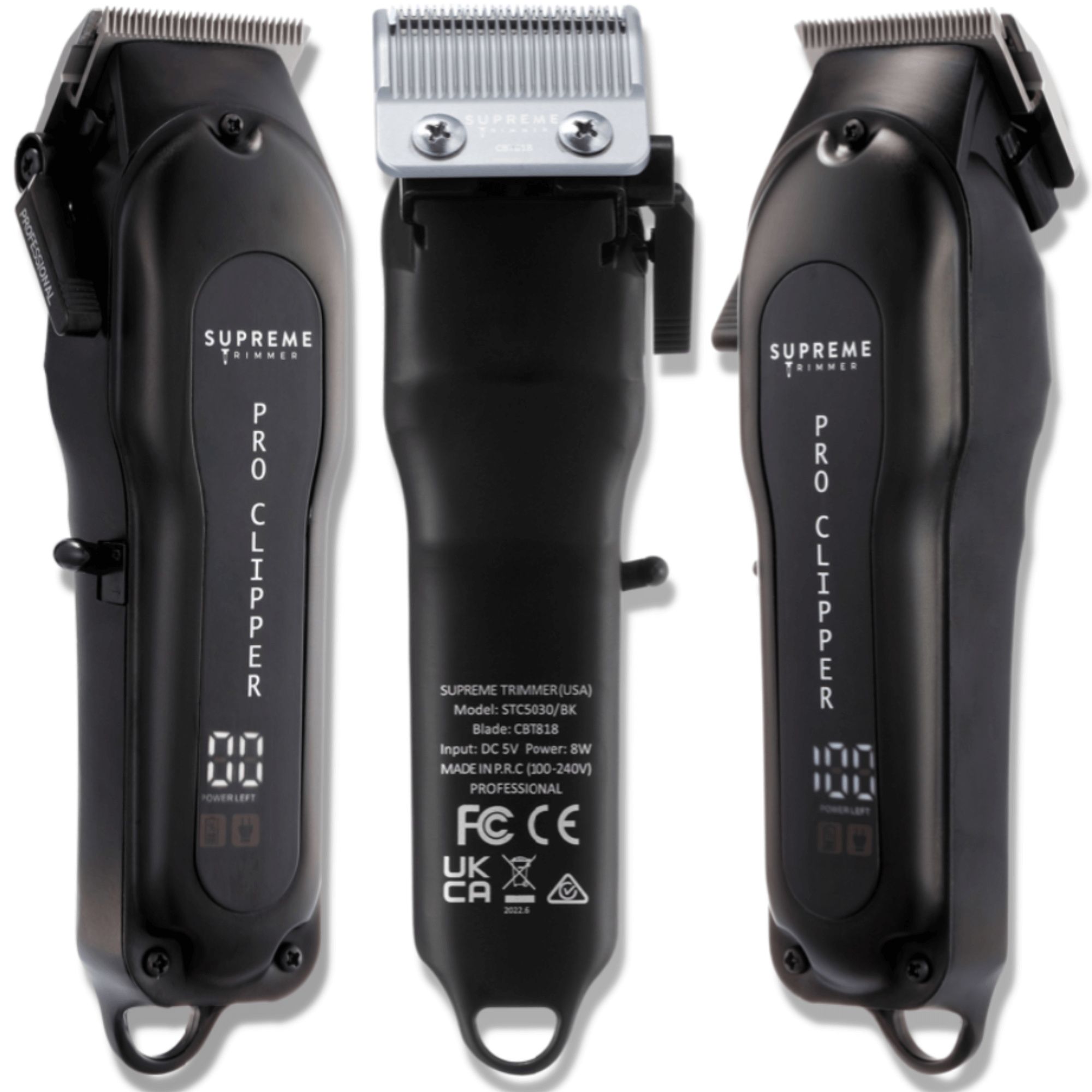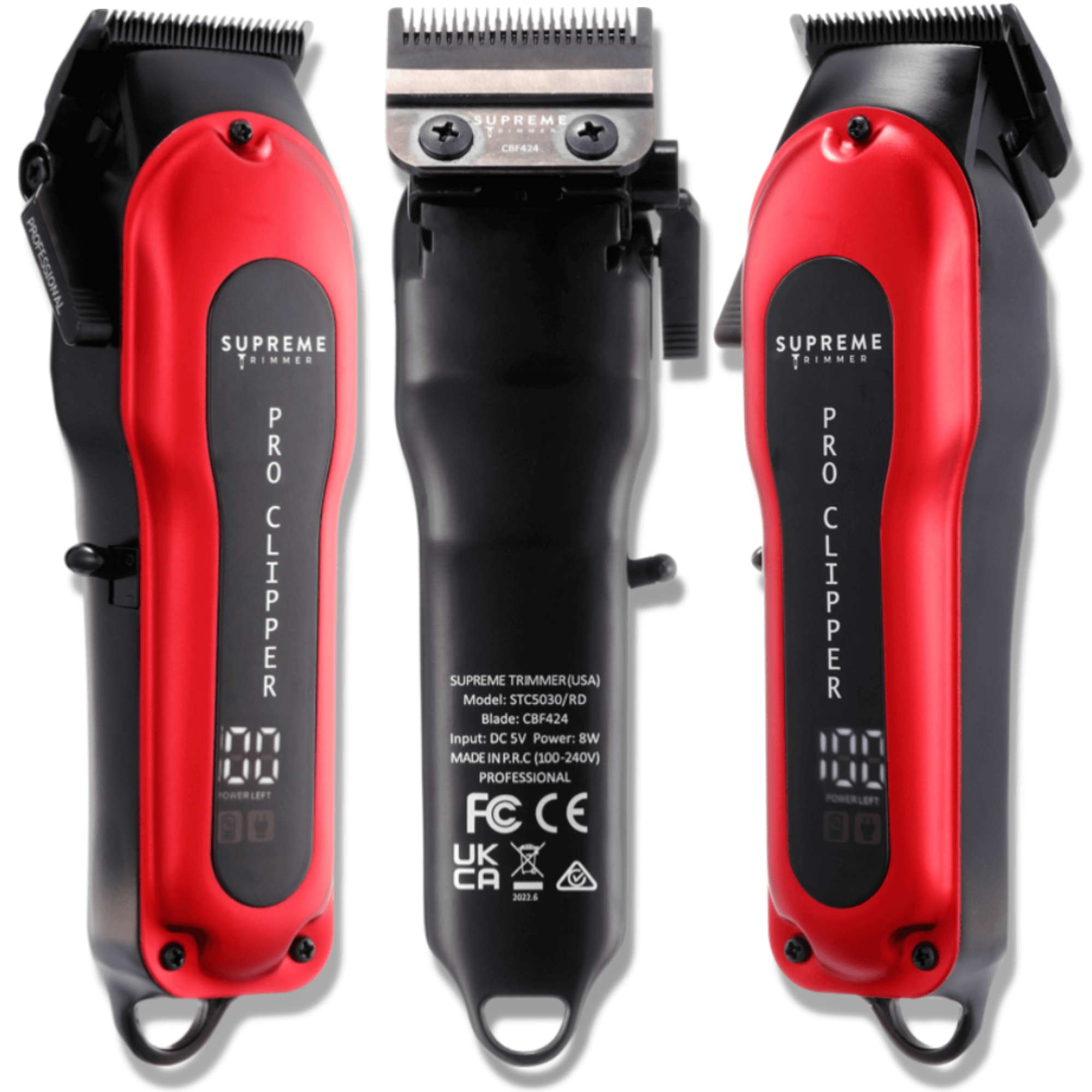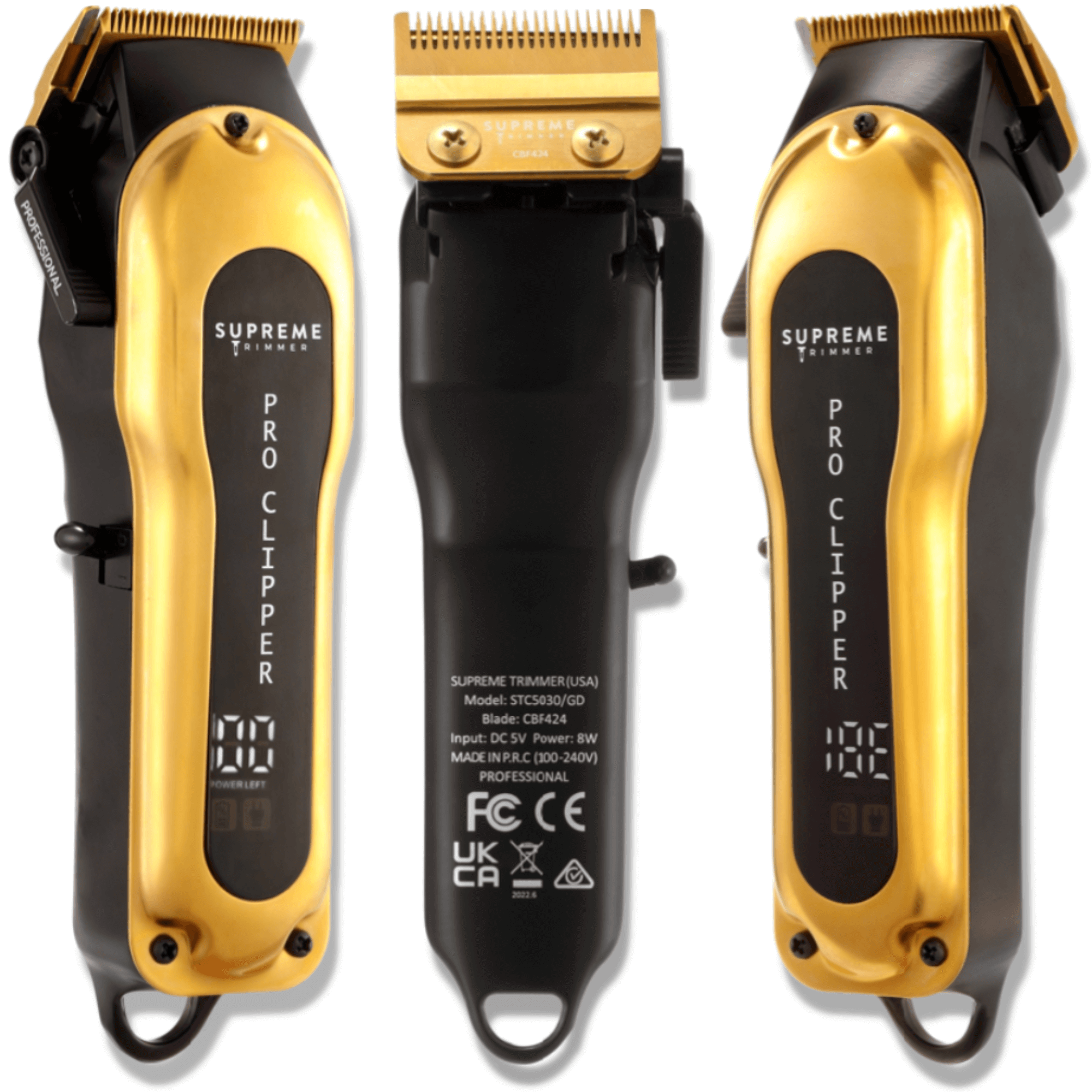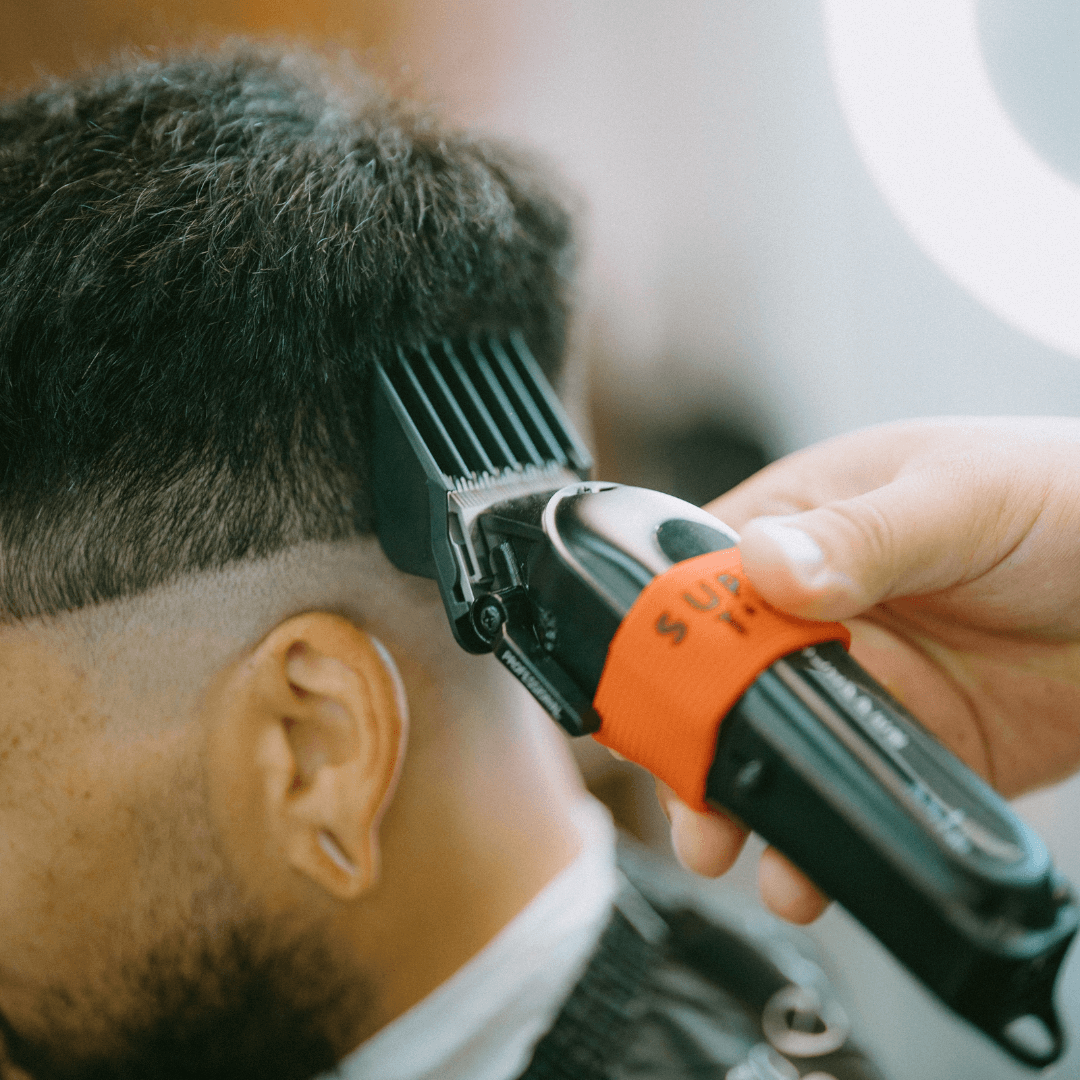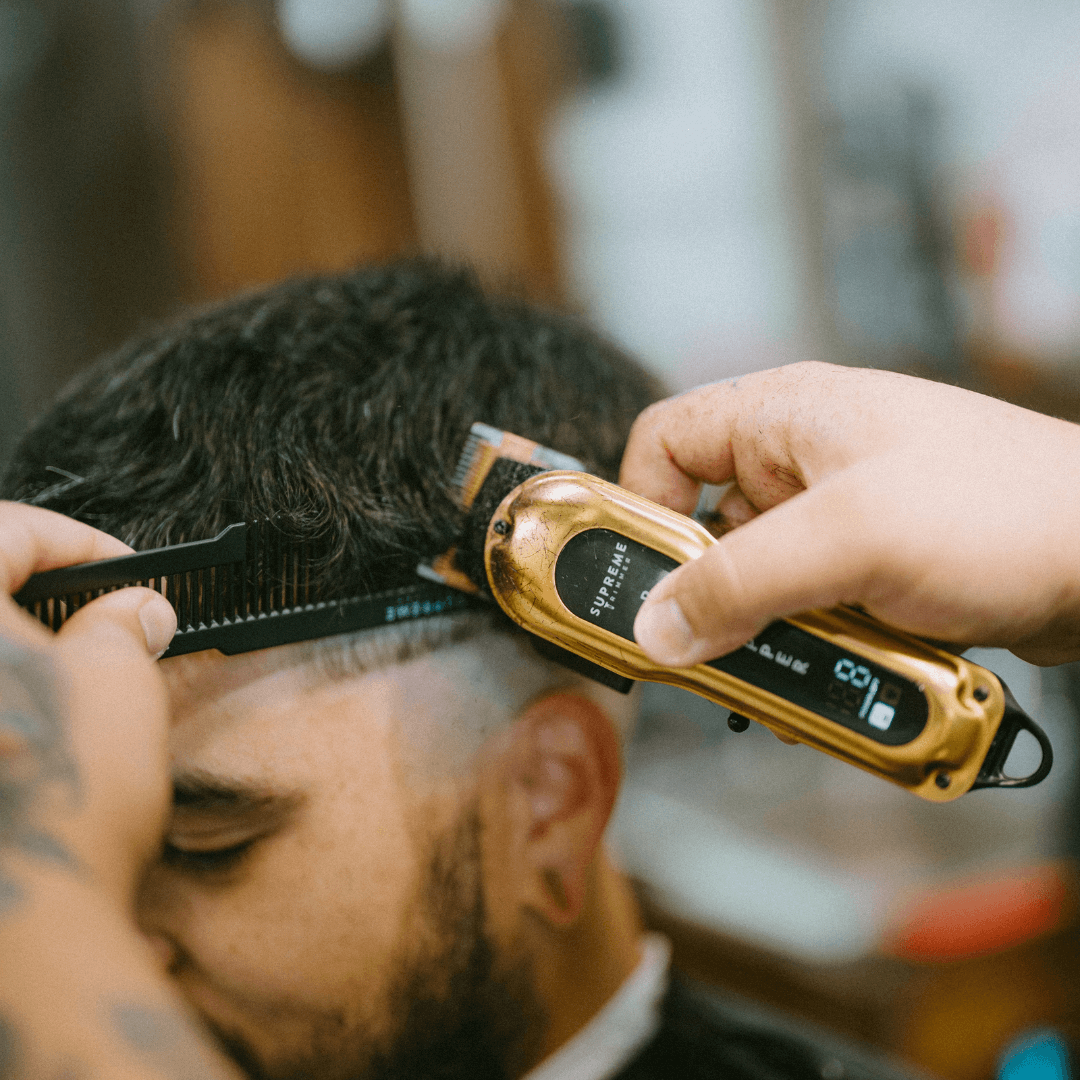 Supreme Trimmer
Pro Clipper™
The Only Pair of Clippers You'll Ever Need
Sale price

$84.99
Regular price
(/)
---
30-day money back guarantee
Customer support available
Pro Clipper by Supreme Trimmer. A Professional Men's Clipper Set for Salons & Barbers. Powerful 6000-6800 RPM Motor & Sharp Precision Blades. Withstand A Full day's work of cutting Hair with 300 Minutes of Continued use. Smart LCD Display gives you awareness of battery life.  Adjustable Lever for precision or Zero-Gap the blades. Ideal for De-Bulking Hair, Straight lines & Hitting all the size requirements you need with 10 Patented magnetic size guards. 

Pink, Gold & Red Colored Clipper comes equipped with our Steel Fade Blade CBF424

◦ SMART DIGITAL LCD DISPLAY
◦ 300 Minutes of Wireless use (3200 mAh Lithium-ion Battery)
◦ 6000-6800+ RPM Heavy Duty Motor (Oil Blades for Maximum Performance)
◦ Taper Blade or Fade Blades are Available for purchase in Silver, Gold & Black.
◦ Ergonomic / Easy to Use / Professional / Metal Shell
◦ Corded & Cordless Use
◦ 100-240V Worldwide Voltage (Universal Charging Via USB)
◦ Customize Lids (silver Lid included Free) Buy more Separately
◦ Optional Lever Click Sound
◦ 10 Different Size Magnetic Guards (Black) - Patented
◦ Salon Hanging Hook
◦ 12 Months Warranty & Unlimited Customer Service
◦ Black Pro Clipper Includes Ceramic Taper Blade
◦ Red & Gold & Pink Pro Clipper Includes a Steel Fade Blade

1. Pro Clipper Li with Sharp Blade's (STC5030)
2. Wall Charger
3. USB Charger
4. 10x Magnetic Guide Combs (Black)
5. Supreme Trimmer Cape
6. Oil Bottle
7. Small Cleaning Brush
8. Large Cleaning Brush
9. Curved Salon Hairbrush
10. Regular Hairbrush
11. Silver Lid replacement
12. Screwdriver to replace Lid
13. User Manual
14. 12-Month Warranty against Defect
Pro Clipper™
Sale price

$84.99
Regular price
Choose options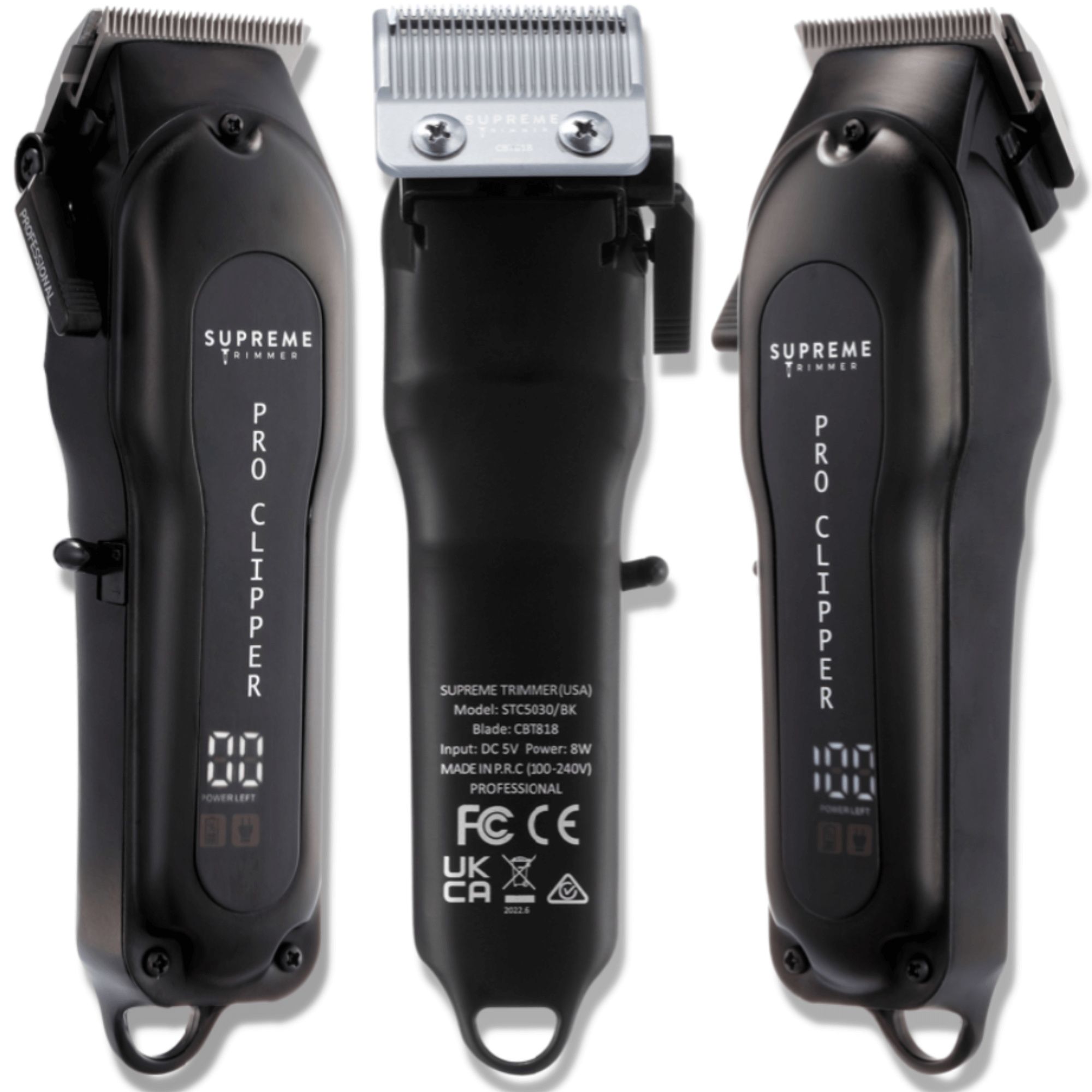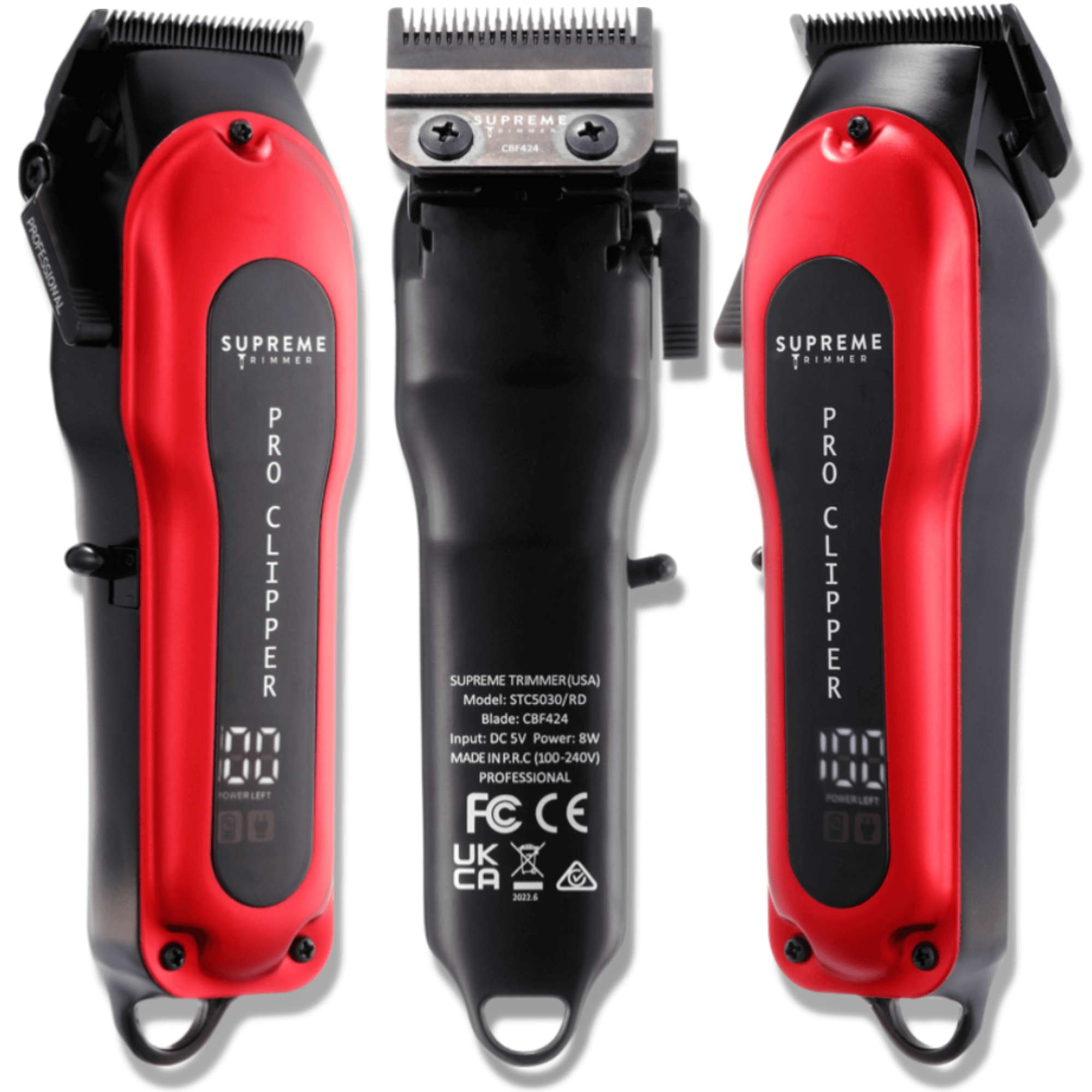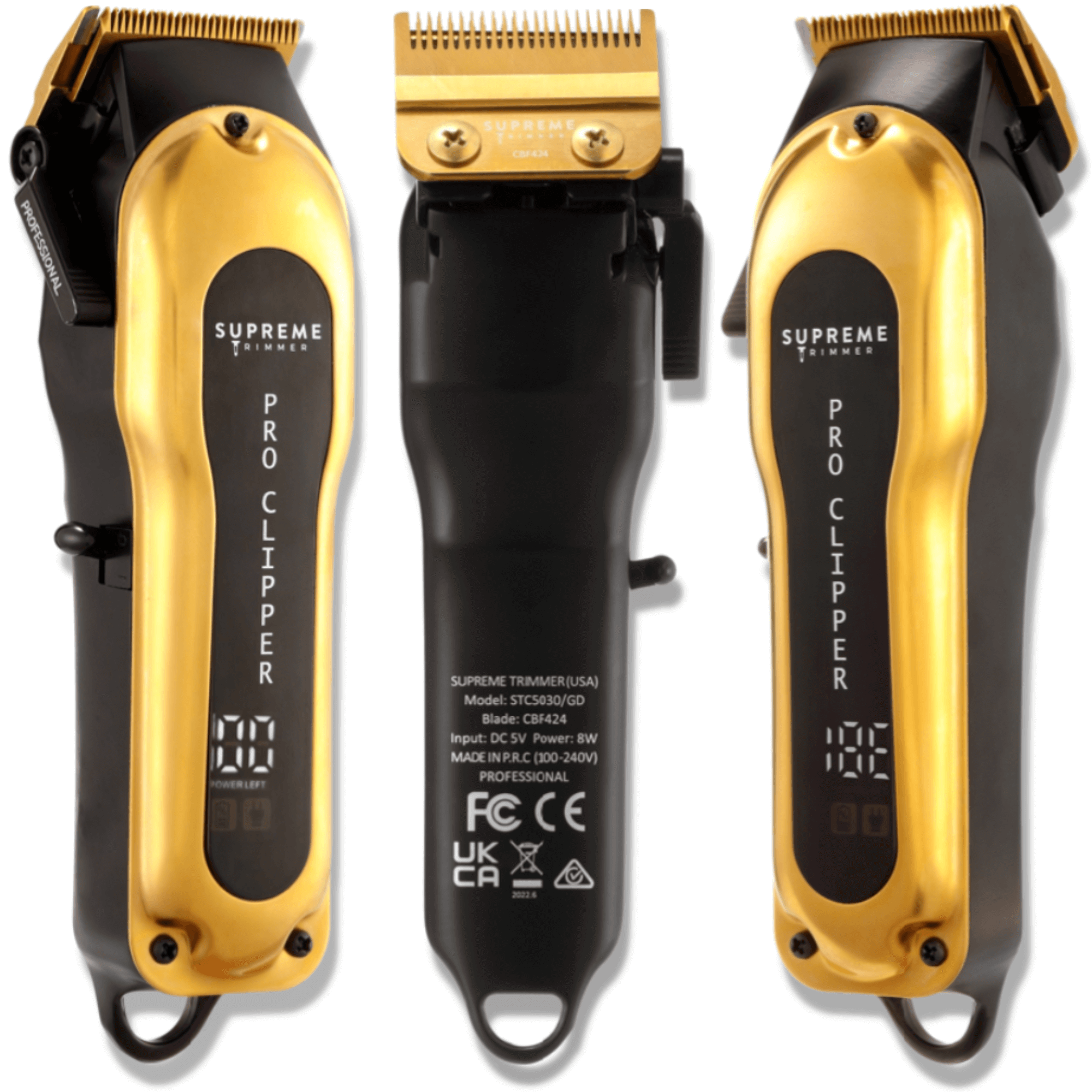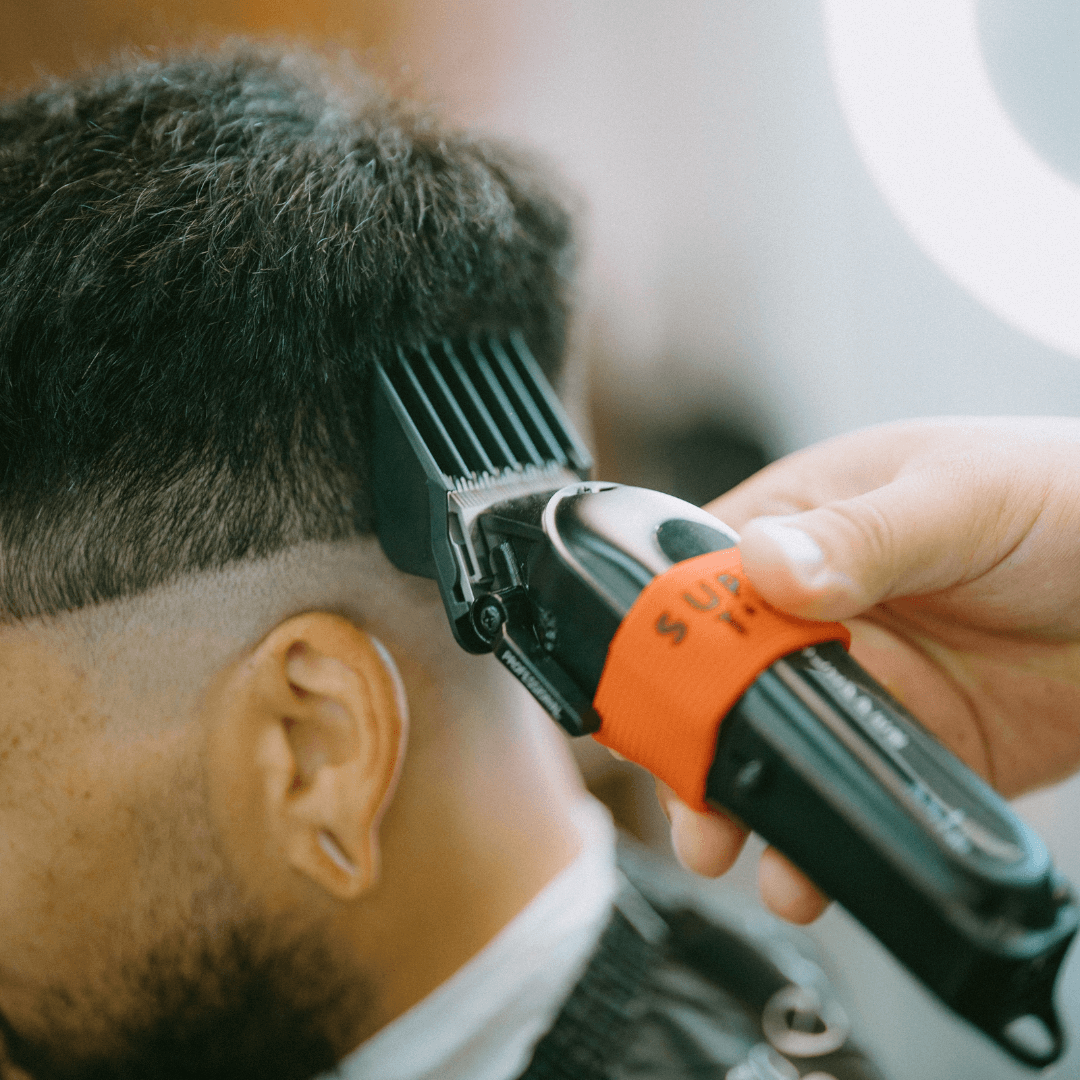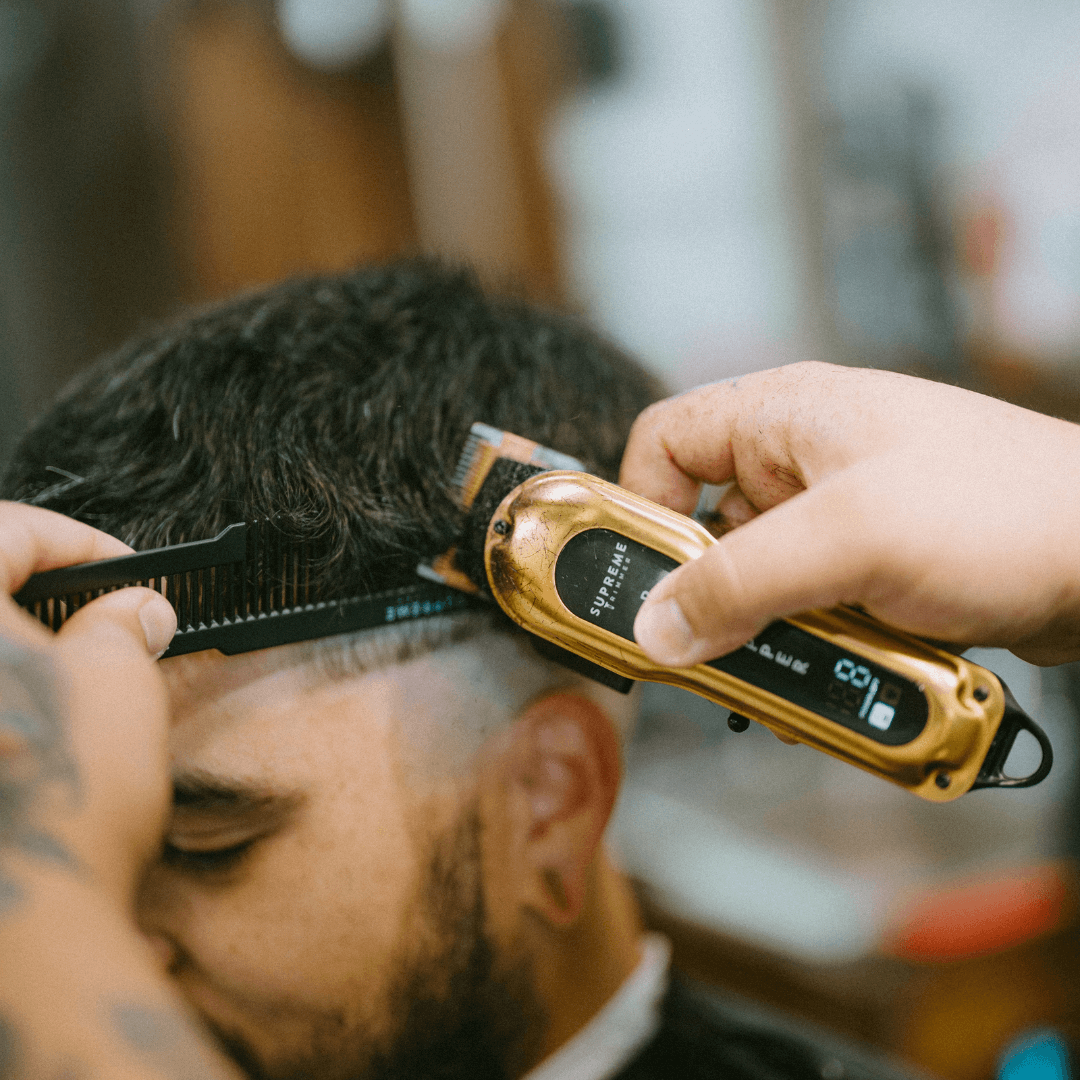 When choosing hair clippers, consider the following features:

Blade type: Look for high-quality stainless steel or ceramic blades, as they are durable and provide precise cutting.
Motor power: Opt for clippers with a strong motor (at least 5,000 RPM) to handle various hair types and avoid snagging.
Corded or cordless: Cordless clippers offer more flexibility, while corded models ensure continuous power without recharging.
Battery life: For cordless clippers, longer battery life (around 1-2 hours) is ideal for extended grooming sessions.
Attachments: Check for a variety of guide combs or guards to adjust the cutting length and achieve different styles.
Maintenance: Clippers with easy-to-clean and self-sharpening blades require less maintenance.

Find more tips about hair Clippers https://supremetrimmer.com/blogs/blog/unlocking-the-secrets-of-hair-clippers-your-guide-to-the-perfect-cut
It is generally not recommended to use clippers on wet hair. Wet hair can cause the blades to become clogged and may lead to an uneven cut. Always dry your hair thoroughly before using clippers for the best results.
It's essential to oil your hair clippers regularly to maintain their performance and longevity. After every few uses, apply a few drops of clipper oil to the blade to keep it lubricated. This prevents rust and ensures smooth cutting.
Hair clippers are designed primarily for cutting scalp hair and may not be the best choice for facial hair, especially in sensitive areas. For facial grooming, it's recommended to use a dedicated beard trimmer or a multi-grooming kit that includes various attachments for precise facial hair trimming.
Cleaning your hair clippers is crucial to prevent bacteria buildup and maintain their performance. Here's how:

Turn off and unplug the clippers before cleaning.
Remove any hair clippings from the blades using a brush or a small cleaning tool.
Detach the blade and rinse it under running water, then let it dry completely before reassembling.
Use a sanitizing spray or solution to disinfect the blades and comb attachments.
Oil the blades after cleaning to ensure smooth operation.